Welcome to MegaRoller - Manufacturers Representatives - VARs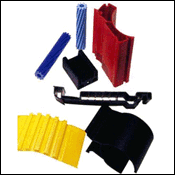 Located at the beautiful Twin Lakes Beach in Santa Cruz, California, MegaRoller™ was founded to provide Rapid Product Development Support Services to Product Design/Engineering Firms, OEMs, Medical, Consumer and Government clients.

MegaRoller™ is a consortium of companies representing the best in Prototyping/Manufacturing of enclosures, functional parts and assemblies. With the MegaRoller™ Family of Companies our clients are able to rely on a group in excess of 400 people with hundreds of years of industry experience. Our group represents the best in the skills needed to support your program. We are involved in many aspects of the medical device industry including cosmetic and medical lasers, instrumentation and industrial/consumer products. Our clients count on us to provide parts from many processes including castings, forming, sla, tooling/injection molding and cnc machining.

With many resources and partners in the design and mechanical engineering community we can help you from early stage to final production.

Contact MegaRoller™ today and learn how we can assemble a program team to meet your exact needs.