Manufacturing


Plastic Injection Tooling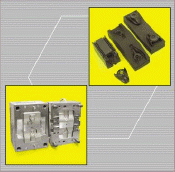 Our molder continues to invest in new technologies, innovative engineering, state-of-the-art tooling and up-to-date mold making facilities. This, when combined with a seasoned and highly skilled work force that is committed to excellence allows them to regularly exceed our customers expectations for both quality and on time delivery. They are widely recognized for our ability to design and provide tooling that incorporates optimum molding capability with unsurpassed reliability, repeatability and durability. This results in reduced cycle times and lowers per part costs. Their unique combination of facilities, staff and technology means that they require less data transfer time, less set-up time, and less manufacturing time - and the tools they manufacture are guaranteed for life.
Plastic Injection Molding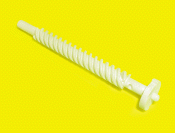 Our molding group is a premier custom molder that engineers time and cost-effective solutions to your most challenging injection molding applications. Their highly skilled and experienced work force, up-to-date production machinery, and state of the art measurement systems, provide you with the highest precision molded parts to the most demanding tolerances. They specialize in challenging applications that require over-molding, two material, two shot molding and insert molding. They employ advanced engineering, materials, and assembly technologies on the production floor or in class 1000 clean rooms.
Plastic Extrusions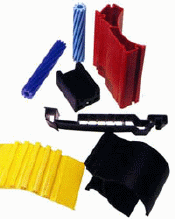 Extrusions Solve Design Problems Our extrusion team extrudes precision profiles from High Performance Engineering Thermoplastic Resins, Alloys and Compounds. We realize that an order will be of great value to our customers, regardless of dollar size. We understand how dependent our customers are on our performance. We serve high value industries such as Business Machines, Electronics, Instrumentation, Communications, Aerospace, Industrial Machines, Fiber Optics, Specialty Lighting, Material Handling and Medical Technology. We also have sub-specialty short runs and prototyping. This gives us the opportunity to also serve the needs of designers, researchers, and inventors. Our quality program is certified to MIL-I-45208A and includes Statistical Process and Quality Control.
Printed Circuit Board Design/Fab/Assembly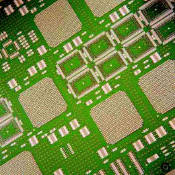 Up to 44 Layers
Blind & Buried Vias
Gold Body - Hard and Soft
Trace and Space Down to 3 & 3 mils
Impedance Control (Calculate, Build, and TDR Test As Required)
Panelizing, Scoring, and Route & Retain
FR4, Duroid, Ceramics, BI, Polyimide, and Teflon Materials
BGA, Micro BGA, COB, SMT, & PTH
Vias Drilled Through BGA Pads: Filled & Plated Over for HDI Quality
NASA Certified & Mil-Spec 55110 F Certified
ISO 9001
SPC & SQC
UL Certified
Quoting & Building Requirments
Gerber Files, NC Drill File, & Aperture List
Fabrication Drawing

Metal Stampimg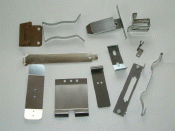 Services Production and Prototype Services.












Die Casting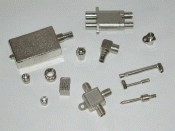 Production and Prototype Services.












Metal Forming and Springs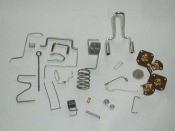 Battery contacts
Radio Frequency Interference/Electro Magnetic Interference (RFI/EMI) shielding
Ground contacts
Flat springs
Spring clips
Wire forms
Belleville, wave and flat washers
Value-Added Services Including: Electronic Data Interchange (EDI)
Design for Manufacturability (DFM)
Computer Aided Drafting (CAD)
Cost Reduction Engineering (CRE)
Spring Design Stress Analysis

Rubber Molding, Liquid Injection Molding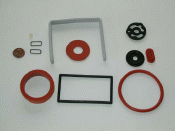 We have the right technologies to produce your components, utilizing liquid injection molding (LIM), compression, transfer molding and injection molding process. Quick turnaround is assured by two modern production facilities, one in California and one in Mexico - running three shifts a day to fulfill tight delivery schedules. Components are 100% visually inspected to assure consistent quality. Additional services include mechanical and/or chemical bonding to metal, as well as co-molding with plastic inserts.
New Technology Shielding Solutions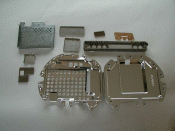 Low cost (typically reduces OEM/CM shielding costs by 33%)
Light weight
Superior EMI/RFI shielding performance (40-70 dB or more)
High-volume manufacturing economically achieved
Low-cost tooling
Rapid prototyping
Recyclable
Environmentally sound production practices
Contact us for more information.
Chemical Machining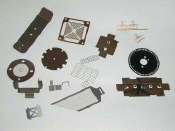 Chemical Machining is the clean removal of metal from pre described areas without altering the integrity or properties of the metal by means of a photochemical process. This process is primarily used in creating small thin metal parts of complex design with no burns or stresses to the parts. The process starts by cleaning the dirt and oils from the metal. A photoresist is applied and baked to assure an even application. The artwork is then placed over the prepared sheet of metal and exposed to ultra-violet light, resulting in the desired resolution and etch specs. The artwork is removed and the resist is ready to be developed or removed. At this point the metal is ready to be etched by submerging the sheet in a chemical solution that dissolves all the material that is not integral to the part. After the etching is completed the resist is removed and the metal parts are cleaned, inspected and packaged.